QwikBanners is the quickest banner making alternative to Canva, and this settles Canva vs QwikBanners argument, continue reading to find out more and how you can automatically create multiple sizes at once using QwikBanners.
Do you know customers find Canva complex? We found out from our users who also previously used Canva, that they found it challenging and time consuming.
If you find yourself here because you don't like complexity, we are travelling in the same boat!
QwikBanners really have made me save time in creating banners, in various formats for various sites and social channels. Earlier I have used Photoshop or Canva, which is good, but really time consuming. My time is of great value and QwikBanners helps me save that time!

–Hammar
I'm really happy to have this tool in my stack now, for a solopreneur like me it's a gem. If you need several same type/style banners but with different sizes, you literally can make them in 5-15 minutes

–Anton
How do we fare better?
Do you know what Canva is? It is an alternative to Photoshop which allows limited free online usage. Apart from that, Canva is pretty much like Photoshop with a reasonably high learning curve. It is simply a tedious and complicated graphic design software. QwikBanners is a software that enables you to quickly create banners and ads. You can create instant AB Test creatives for campaigns by simply uploading different images and changing color in clicks. With Canva, its a completely imprabable thing to do becuse even creating a single creative would take hours on end.
Answering the question – Canva vs QwikBanners?
QwikBanners is an efficient and better alternative to Canva. There is nothing to be learnt before you can master the art of creating beautiful display ads. Every beginner is a professional and can professionally create just about anything. No more unnecessary menus and complicated editors to mislead you and waste your time.

We have everything you need to get started. Don't torture yourself with long and boring tutorials on how to create a banner or a display ad. Just pick the template that suits your business from hundreds of professionally pre-designed templates and instantly start editing until you find satisfaction in your image.
Unlike Canva, we value your Time and Effort
We define fast. Can you imagine how long it would take to create multiple sizes for an ad? We make sure that your time is not wasted while creating on QwikBanners and this finally settles the debate of Canva vs QwikBanners – as with QwikBanners you can easily create and edit multiple sizes simultaneously. The possibility of having multiple sizes allows you the opportunity to advertise on every major digital platform.
Canva being in the ruthless cutthroat graphic design software industry can only do so much. Which is why the pricing at Canva is so heavy on your pockets even for minimal services. At QwikBanners, you only pay for what you need and it costs you as low as $10 per month! Start using our user friendly banner software and begin creating like a pro!
Making banners is really easy with QwikBanners
No matter what people say, marketing and advertising is not easy. We understand the troubles that follow a digital marketing campaign which is why we are here for you. Strategising and planning the campaign alone is a huge task and when this meets the additional requirement of creating displays, it can be a tiresome and hectic journey. Like this was not already enough, now you have to resize your creative displays every time you want to use it on a different platform. All in all, it's pretty frustrating. QwikBanners eases more than 50% of your campaign management tasks related to banner creation and sizing. When working with QwikBanners, you can simultaneously create, edit and download multiple sizes which saves you unimaginable time and keeps you energised.
Celebrations are always around the corner
Don't raise an eyebrow, raise a glass because that is what you will have time for after you've started using QwikBanners! With profound research, we've created effective professional looking templates pertaining to events and festivals just for you. There are quite a few readymade templates approved by conventional industry professionals. You can easily pick one that suits your campaign and start rolling!
We are different and different is good
QwikBanners is a unique juxtaposition of design softwares. Online or Offline, Canva or Photoshop, you name it and we'll show you how we are different from them! And be informed that you will end up appreciating our economical approach to tackling problems with display banner creativity. QwikBanners is certainly something that you've never tried before.
Multiple sizes ready in single click
QwikBanners enables you to create incredible ads for your marketing campaigns in multiple sizes. You don't have to leave any platform untouched because there is always a display banner for that platform. Facebook, Instagram, Twitter or LinkedIn, anything that comes to your mind, just name it and we have you covered with the multiple sizes you've downloaded. No need to lag anymore because you can't find a graphic designer! Join the DIY gang to save time and money.
Creativity at its best
Do you know how creativity works? Neither do we! That is what is best about creativity, right? You never know when the creative surge will hit you and how good it can be. It is upsetting and unacceptable for someone to get blocked out of creativity because of technical and physical limitations. So, we've tried our best to minimize its results. This is something we kept in mind while creating QwikBanners which is why when you work on QwikBanners, you have mind-boggling freedom with creation.
Your success starts here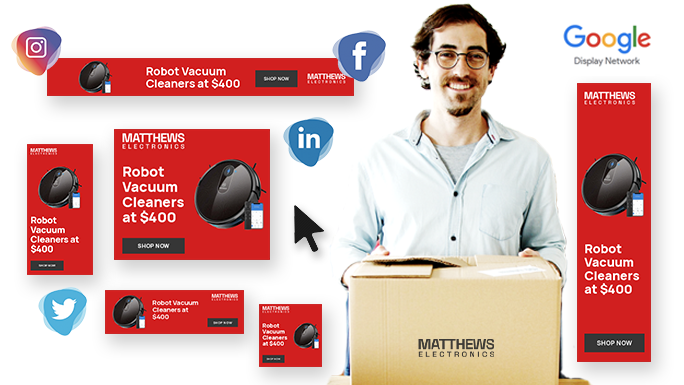 We take pride in the service we offer. Our goal is to empower you on your road to success. With QwikBanners you will never find yourself stuck and alone. You never have to start from a blank with our professionally pre-designed templates. Best-in-class banner designs excellently match your marketing campaign themes. We provide everything you need to create anything you can imagine.
Now that settles Canva vs QwikBanners debate, and here's an extended 15 days free trial that awaits you, go ahead give it a spin here.