Standard Banner Sizes For Most Effective Campaigns
Built a great product or service and now planning to market it?
Well you have arrived at the right place, digital marketing is the most cost effective medium with an ever increasing broadening reach. In this post I will take you through an indepth learning about standard banner sizes and how to create them for an efficient campaign.
#Update – May 2021 we have added standard banner sizes for social media ads as well.
What Is Display Advertising?
Banner display advertising is one of the many legs of digital marketing and let us understand it in a greater depth. Display advertising can reach relevant audience all across the interent. If you are beginner then I would suggest you to spare some time watching this video from GOOGLE'S DIGITAL GARAGE to understand what display advertising is? And if you understand it already then please skip the video.
Standard Banner Sizes
While creating display banners for your display advertising campaign, it is very important to decide which sizes to use. The size of banners affect the performance of the campaigns and therefore the right choices and standard banner advertising sizes can effectively boost the performance. There are standard guidelines created by the Interactive Advertising Bureau (IAB) on banner sizes which are accepted across all advertising networks, including the Google Display Network (GDN) as well.
Here's a list of standard banner sizes:
| | | | |
| --- | --- | --- | --- |
| Name | Dimensions(px) | Frequency Usage | Weight |
| Medium Rectangle | 300×250 | 40% | < 150kb |
| Leaderboard | 728×90 | 25% | < 150kb |
| Wide Skyscraper | 160×600 | 12% | < 150kb |
| Half Page | 300×600 | 5% | < 150kb |
| Billboard | 970×250 | 1% | < 150kb |
| Large Rectangle | 336×280 | <1% | < 150kb |
| Banner | 468×60 | <1% | < 150kb |
| Half Banner | 234×60 | <1% | < 150kb |
| Skyscraper | 120×600 | <1% | < 150kb |
| Vertical Banner | 120×240 | <1% | < 150kb |
| Portrait | 300×1050 | <1% | < 150kb |
| Large Leaderboard | 970×90 | <1% | < 150kb |
| Square | 250×250 | <1% | < 150kb |
| Small Square | 200×200 | <1% | < 150kb |
| Small Rectangle | 180×150 | <1% | < 150kb |
| Button | 125×125 | <1% | < 150kb |
---
Popular Sizes – The Most Effective Banners
It is a very common mistake that many startups, brands do that they straightway go on building the complete size set of banners, believing that this way they leave no stone unturned or any corner unreached with all sizes set to reach all possible audience. Well, that's not true! It may sound suprising but only 4 sizes can reach to 82% of your audience. These are the standard banner advertising sizes. You must not waste time and money to create 20 different display ad sizes, calmly just start with standard banner ad size of 300×250 Medium Rectangle and it will cover 40% of ad impressions and then adding remaining top 3 sizes will cover a total of 82% of ad impressions.
Medium Rectangle Ad (300×250)
One of the most common standard banner advertising sizes is the medium rectagle ad. All ad campaigns contain the Medium Rectangle. 40% of global inventory constitues of this standard 300×250 banner therefore making it the most important ad for your campaigns. It is versatile as it can perform well both on desktop and mobile that makes it the most popular.
THE MEDIUM RECTANGLE (300×250) AD LOOKS LIKE BELOW:
This banner can often be found in content like text articles – new reports, editorials etc. As compared to other bigger formats it is considered less intrusive pertaining to its rectangular size.
Adding to its versatility the Medium Rectangle also performs well both as an image ad or a simple text ad. Being used widely Google has issued specific guidelines for 300×250 Medium Rectangle banners. It is imperative to follow the guidelines to make sure Google does not remove your ad.
THE GOOGLE DISPLAY NETWORK IS A GROUP OF MORE THAN 2 MILLION WEBSITES, VIDEOS, AND APPS WHERE YOUR ADS CAN APPEAR. DISPLAY NETWORK SITES REACH OVER 90% OF INTERNET USERS WORLDWIDE. – SOURCE COMSCORE
The full set of guidelines can be found them in Google AdMob guidance on the Medium Rectangle Ad. You can READ MORE ABOUT GUIDELINES HERE.
Leaderboard (728×90)
The Leaderboard is among the best-performing ad slots and therefore has to be an ad buy. It might be expensive but it is worth it because of its performance. This standard banner advertising size attracts quality with quantity. The ad is generally placed at the top of the page making it the first thing a user will see. However many sites frequently also put a second 728×90 at the bottom of the page for additional revenue.
THE LEADERBOARD (728×90) AD LOOKS LIKE BELOW:
The key advantages of Leaderboard ad are – a very high viewability, high impact results for advertisers, can be run both as a standard unit or an expandable format making it ideal for all types of rich media.
Wide Skyscraper (160×600)
Due to its longer size the 160×600 ad size is placed on the side of a page in order to show users the ad as they scroll down. The Wide Skyscraper generates a decent CPM but lesser as compared to both standard web banners sizes Leaderboard(728×90) and Medium Rectangle(300×250).
WIDE SKYSCRAPER (160×600) AD LOOKS LIKE BELOW:
If it is placed aligning with Medium Rectangle 300×250 ad along the right side of the page, it can make up part of a homepage takeover.
Half Page (300×600)
The Half Page (300×600) banner is a large format ad unit considered equivalent to a full page ad in a newspaper. Sometimes also called as Double MPU it provides a large area for advertisers to get their communication across with a high CTR (click through rate).
HALF PAGE (300×600) AD LOOKS LIKE BELOW:
Key benefits of Half Page(300×600) banner are – the large format provides high visibility and more visibility drives incremental CTR (click through rates).
300×250 : Most Effective Banner For Both Mobile & Desktop
The Medium Rectangle (300×250) standard banner advertising size is the most popular, and it runs across desktop and mobile making it the most versatile as well. A rather standard banner ad size, it should be used to design and test different styles and messaging.
Running this size on mobile can be tricky at times because it may garner a lot of accidental clicks. On the mobile, the close button is often hard to find while trying to tap on something else so you may click on the standard web ad.

You must decide your bidding accordingly, if you're buying a CPM (cost per mille) campaign, accidental clicks does not harm your standard banner ad as your ad has been served and an impression made, but if buying on a CPC (cost per click) then accidental clicks on your standard web banners sizes will harm your campaign, as those users are not really interested in your product and therefore those clicks are a waste of your ad spends.
The best strategy is to explore CPM bidding on mobile and CPC bidding on desktop where there is enough visibility and distinction and moreover people interested in your product definitely click those banners where there is a clear value proposition and a compelling call to action.
Most Effective Banners On Google
If you are planning to run ads only on Google Display Network, then you must focus only on 5 standard banner advertising sizes of Medium Rectangle (300×250), Leaderboard (728×90), Large Rectangle (336×280), Half Page(300×600) and Large Mobile Banner (320×100) because according to GOOGLE THEY ARE THE TOP PERFORMING AD SIZES, so it is recommended not to spend the precious time of your designer in creating other standard banner ads sizes that don't matter efficiently for GDN.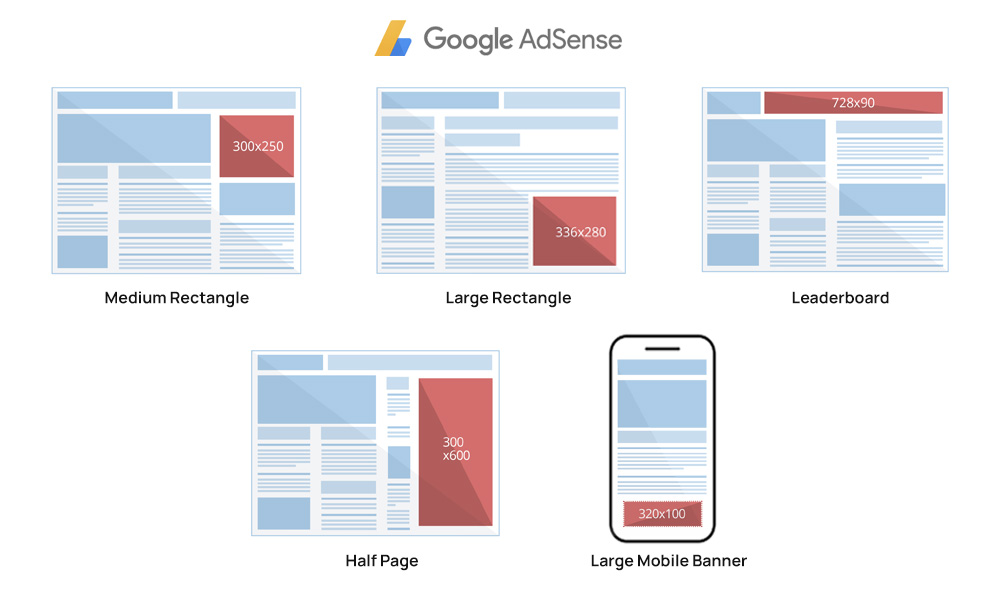 IAB Guidelines
According to the new IAB guidelines, standard web banners sizes and standard banner ads sizes need to be "distinguishable from normal web page content and the ad unit must have clearly defined borders and not to be confused with normal web content." The ad sizing has be flexible as people may view your ad on different-sized screens. READ MORE DETAILS ABOUT IAB GUIDELINES FOR MOST EFFECTIVE BANNERS HERE.
Standard Banner Sizes for Social Media Platforms
Creating social media banners, posts and ads using a social media banner software and the creativity behind them purely rests on where you want to advertise. For every platform, there exists many standard banner advertising post sizes respectively which are intrinsically different from standard web banners sizes for display banners. And each platform has its own sub-category of social media post sizes which make use of unique standard banner ads sizes around it.
First things first, you must understand and decide which social media platforms work the best for your business and what is the standar banner ad size for you. You can watch Neil Patel's video here and decide on your own, and if you are clear in your head then you can pass the video.
Visually appealing social media posts with standard banner ads sizes are provably more efficient in driving traffic and the addition of an image to your ad appeals more to people than any simple text, following is a summary of standard sizes of banner ads sizes for most common social media platforms.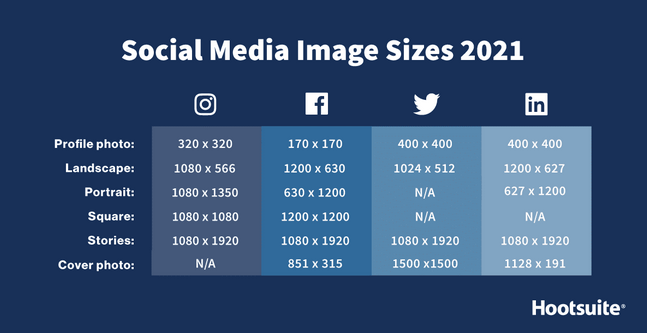 Standard Banner Advertising Sizes for Facebook
News Feed Ads
Best size at 1,200 x 900 pixels.
Displays in feed with a max width of 470 pixels. Aspect ratio up to 1:1.
Displays on page with a max width of 504 pixels. Aspect ratio up to 1:1.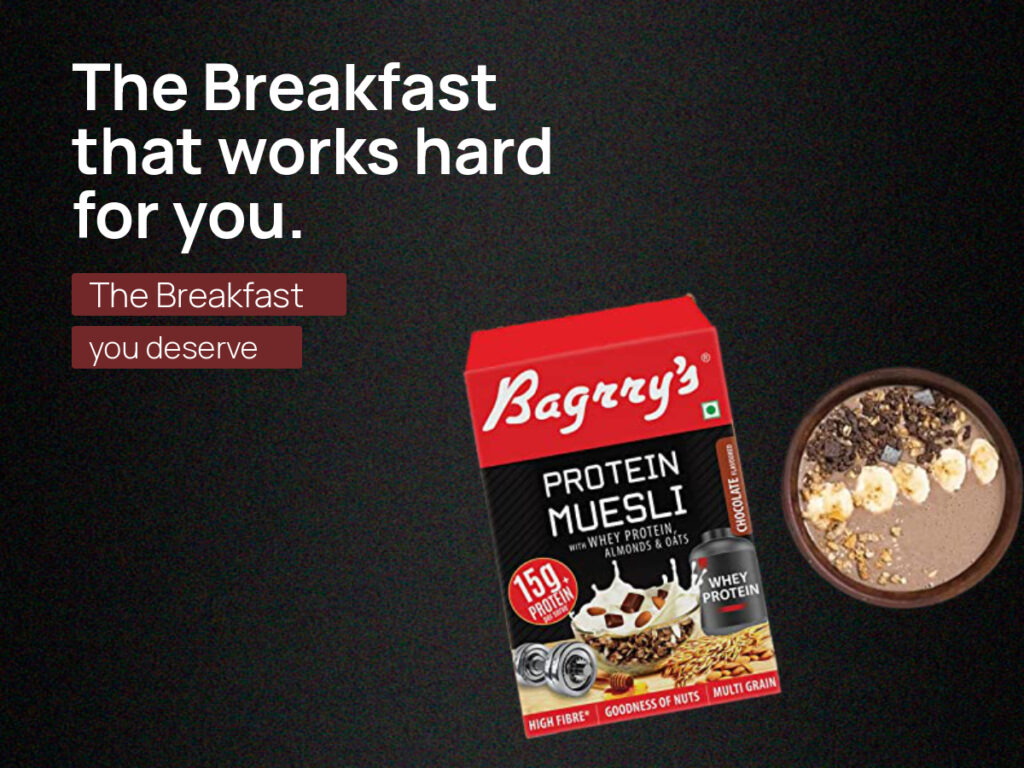 Link Ads
Best size at 1,200 x 628 pixels.
Square Image: Min. 154 x 154px in feed.
Square Image: Min. 116 x 116 on page.
Rectangular Image: Minimum 470 x 246 pixels in feed.
Rectangular Image: Minimum 484 x 252 on page.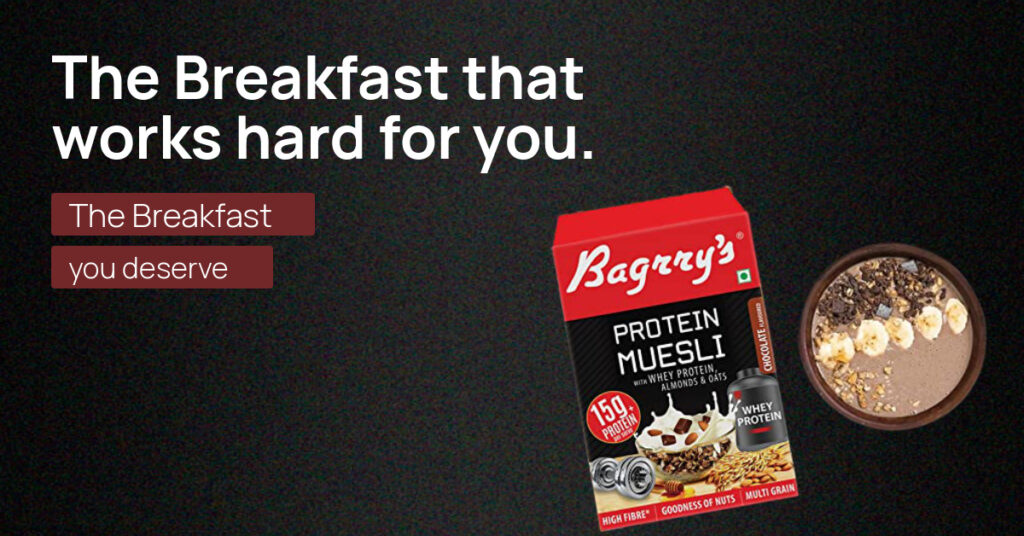 Feed Ad
Best resolution at 1080 × 1080 pixels.
Min. width and height: 600 pixels.
Aspect ratio between 9:16 to 16:9.
Also works for Carousel Ad, Right Column Ad, Instant Article Ads, Marketplace, Facebook Messenger, Instagram Feed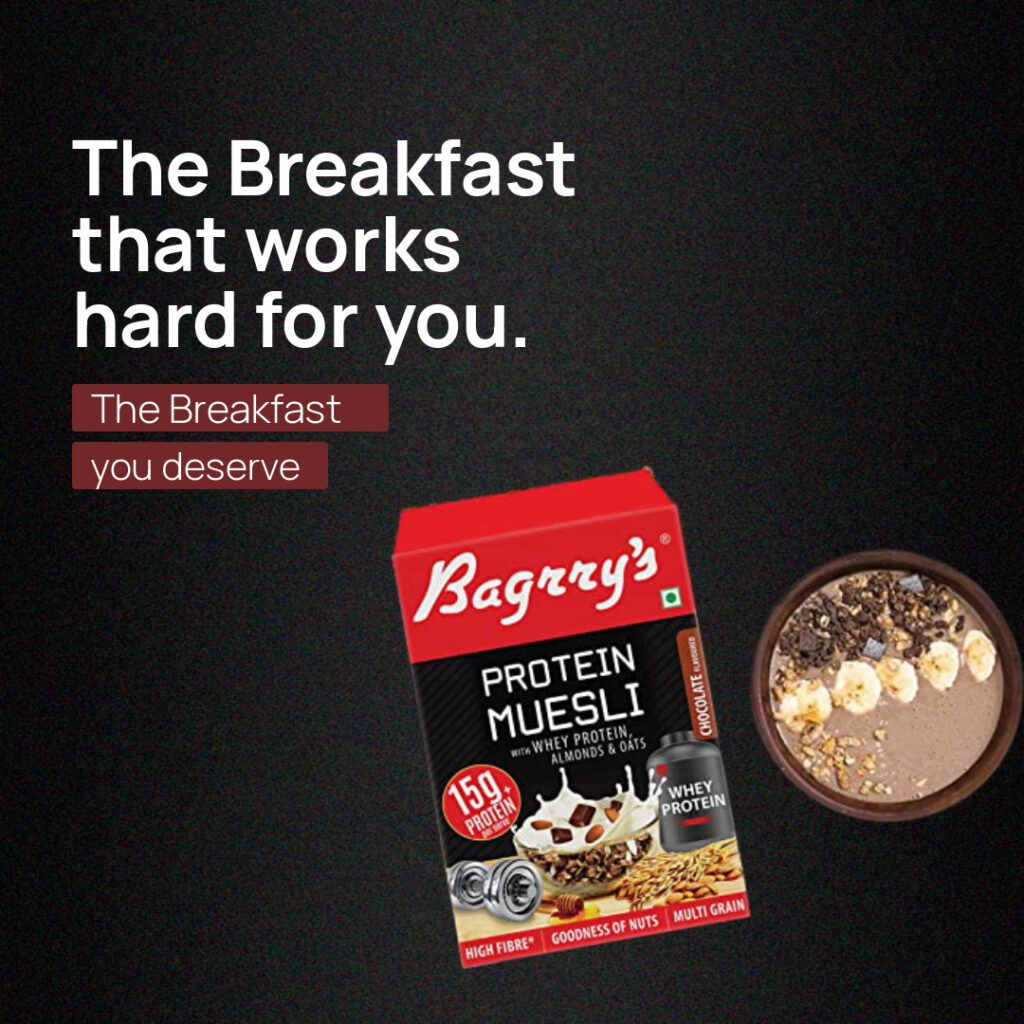 Standard Banner Advertising Sizes for Twitter
Twitter timeline post
Image tweet with a shared link is sized at 1024 x 512 pixels.
An aspect ratio of 16:9 is best.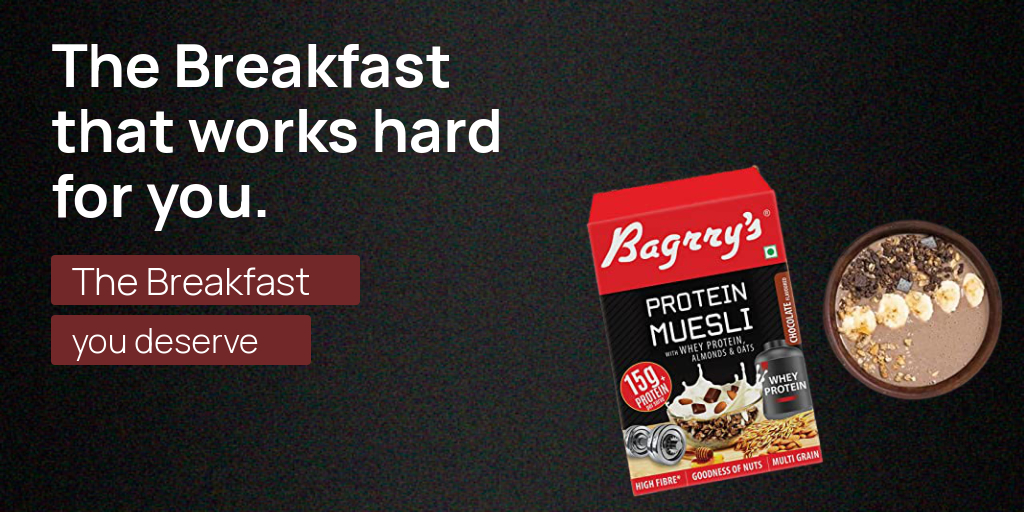 Standard Banner Advertising Sizes for LinkedIn
Best horizontal image sized at 1200 x 628 pixels.
For square presentation, best images sized at 1200 x 1200 pixels with or without links.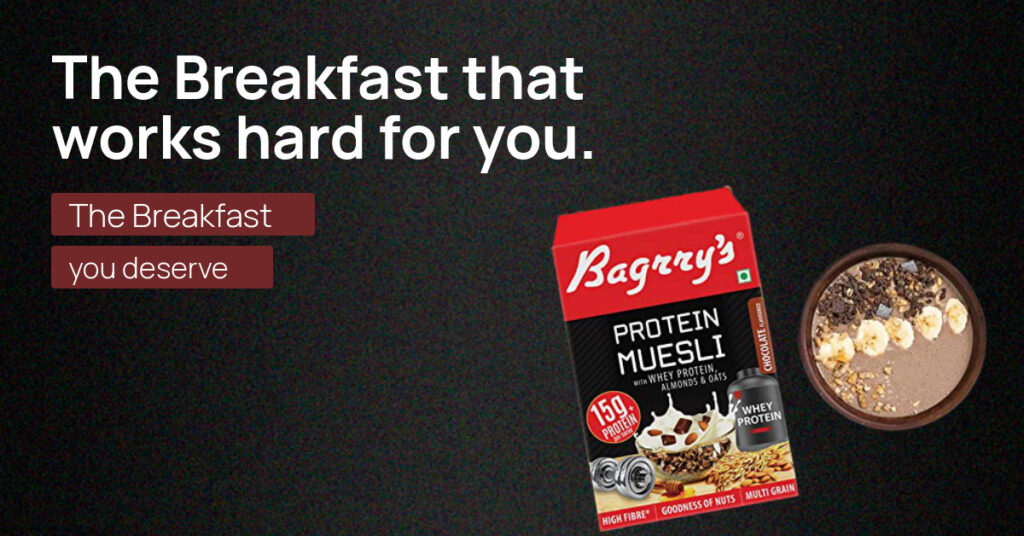 Click here to read more about detailed social media ad placements, types and sizes.
Designing Your Banners
Now that you have understood display advertising and have a sound knowledge of standard banner ads sizes with their levels of efficiency and overall impressions share, it's time to understand how to design your standard banner ad size to get maximum attention and clicks.
Almost 11% of netizens today are using adblocker and lots of others just avoiding them out, a deep thought and design strategy needs to be devised to make sure people click on your ads when they see them.

And great display banners are all about a compelling visual story. The power of design cannot be underestimated or understated. 50% of marketers agree that design plays a massive role in how display banners succeed. Most importantly, standard banner ad size design influences the first impression of the way consumers perceive your brand. In reality not every marketer or an upcoming brand or a startup or a small business owner that wants to run display campaigns is an expert designer. And if you are one of them, then let us have a look at how you can up your designs by applying basic principles of visual design and create most effective and standard web banners sizes i.e. high CTR display ads.

The fundamental elements of a display ad are four main components:
Your logo or company name ( To increase brand recall )
A value proposition (An irresistible offer )
An image of your product / service
A compelling call to action
YOUR VALUE PROPOSITION AND CTA ARE MOST IMPORTANT therefore they should be the most visually distinct elements. Place the logo at a distinct position and also don't let the image obstruct the copy.
Color Design
Color is vital part of display banners design thinking while creating a brand, as it's used to grab people's attention and evokes their emotion. People associate color with brands. Imagine Coca-Cola with closed eyes and you will see a red bottle graphic, and wonder about Pepsi? Blue? that's how people connect with brands. Standard banner ads sizes do this to brands, they make a visual connection between display banners, brand and customers.
The psychology behind color is fascinating and it needs attention while designing ads and standard web banners sizes. Men and women have different color preferences, the studies show that the most popular colors among men are blue (57%) and green (14%), whereas women are into blue (35%) and purple (23%).
Most Liked Colors
Most Disliked Colors
Two most important questions need to be asked before deciding color pallette for your brands are:
Who is my target audience and which colors will most appeal to them?
What are people's expectation from my brand and industry?
As a thumb rule, for standard web banners sizes, the color palette should be minimal. You should pick two or three main colors to use in ads and display banners. Using too many colors or building a rainbow of colors will distract the viewer from what is important. A couple of contrasting colors make the important parts stand out, like in this ad:
Create Standard Banner Sizes In Few Clicks
Too much of a design ask? think you cannot do it? don't have resources, time or money?
Do not worry we have everything covered for you and our banner automation tools helps you create all critical sizes in a mere few clicks. A variety of top performing standard banner ad size and the most effective banners' templates are available for your to use with an inbuilt royalty free stock images search engine to help you get perfect images for your banners without sweating for non copyright images and searching them differently and placing them on your ads, click on images to create all your banners with unlimited downloads.

Watch the demo video below to have a better understanding :
3 Easy Steps To Create Banners
Follow these steps to easily create your standard web banners sizes and display banners with countless variations and styles in mere few clicks.
Step 1 : Choose a template
Browse through high performing display banners templates and select the one that suits your campaign.
Step 2 : Add your proposition & accordingly a call to action
Type in your offer, make sure you don't write extra or write less, as the copy will be visually updated for your understanding. Specific & crisp copy works the best.
In the example below, the proposition is of membership and therefore "Enroll Now" makes a clear call to action for the user.
Step 3 : Brand it
Upload your brand logo, customise the colors theme suiting your brand.
Let us know what you think in the comments below.